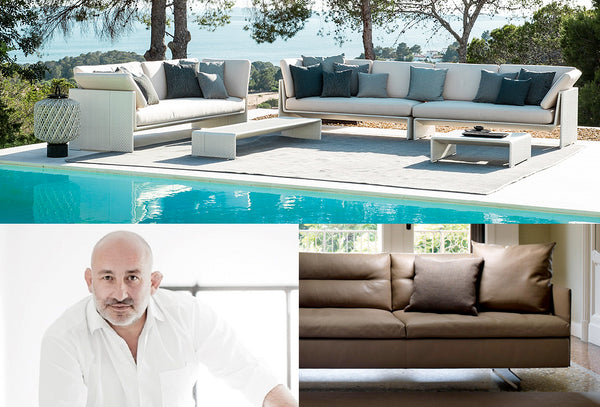 Design Spotlight: Jean-Marie Massaud
Kathy and I were very fortunate to meet master furniture designer, Jean-Marie Massaud at the Poltrona Frau showroom in New York last month. Massaud has been a furniture design giant since 1994, when he opened his first office in Paris, after graduating design school in 1990. He has created collections for some of the most prestigious organizations around the globe, with pieces featured in some of the world's best museums. His expertise ranges from one-time projects to serial designs, including macro environments and smaller contexts. Jean-Marie Massaud remains a soft-spoken, down to earth gentleman who appreciates beautiful design.


Kathy loved his French charm and unique approach to design when we had the opportunity to chat at the Frau private event. The conversation turned to specific pieces he designed from the Frau collection including the Gran Torino, which is in the Home Resource showroom as well as our own home. Other beloved pieces he designed that are in our showroom include the Kennedy JR sofa, the Fitzgerald dining chairs, the Archibald occasional chair and the Holly Lamp.  Jean Marie humbly appreciated our deep passion for his individual designs, and we loved learning about his unique approach to creating exceptional masterpieces.
In addition to discussing existing designs, we chatted about Massaud's newest collection that was introduced in Milan last month and which includes the amazing Clayton sofa. This haute couture creation showcases stunning deep textures combined with gorgeous color options. We are expecting the new collection to be displayed in the showroom before the end of the year.  After speaking with the designer himself and understanding his design process, we have become even more inspired to share his designs with our furniture enthusiasts. Massaud's devotion to design reflects his passion to connecting individually with each person.
 
By the way, we also discussed some of his highlights of outdoor furniture designs as well as his future design plans. We shared some of our favorite of his designs from the Dedon collection, which we proudly represent in the showroom including The Slim Line collection, Seashell collection and Satellite collection. We also spoke about our experiences about Dedon Island in the Phillipines, a stylish boutique hotel which was created in collaboration with Jean-Marie and designer Daniel Pouzet to create the perfect expression of barefoot luxury. An experience that we some much enjoyed that we are booked to return again.

Representing this incredible designer who has worked successfully with businesses such as Authentics and Baccarat, means even more after meeting him and learning about his passion and aspirations.  Jean-Marie's devotion is contagious and his ability to mix elegance with true comfort is inspiring. After mingling with a man who has rubbed elbows with brands such as Axor, Toyota, and Cassina, we are thrilled to bring his newest collection to our furniture enthusiasts all over the world.