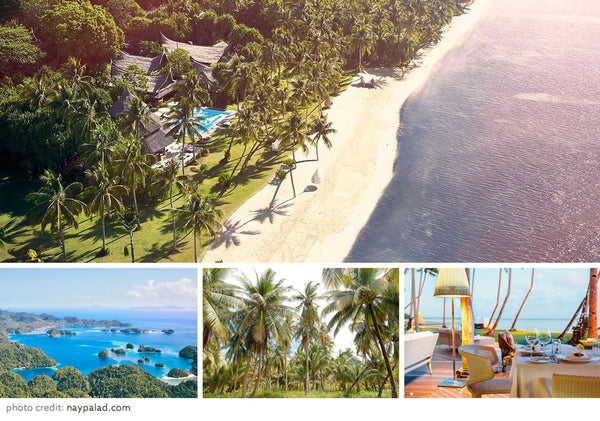 Travel: Snakes, Palmtrees And Dedon Island
Dedon Founder, Bobby Dekeyser has been an influential leader in contemporary outdoor furniture, setting the standard for design, materials, quality and manufacturing since Dedon's inception. Even with a stunning portfolio of creative and inspired designs, his most unique achievement is undoubtedly Dedon Island. The quintessential South Pacific island paradise has everything that comes to mind, with swaying coconut palm trees, azure shores and South Asian oceanic culture. Located roughly 800km Southeast of Manila in the South Eastern Philipines on pristine Siargao Island in the province of Surigao del Norte, the area is far removed from the stresses of modern life.

After Dekeyser discovered the island and endeared the location as a personal heaven and retreat, he then acquired a resort property located in a coconut grove along a beautiful beach on the South Eastern tip of the island.  As many Dedon collections draw their inspiration from remote and exotic cultures around the world, the area's South Pacific flavor is a perfect backdrop for showcasing Dekeyser's vision of resort living and beautiful outdoor furniture.

After purchasing the property, Dekeyser collaborated with Jean-Marie Massaud and Daniel Pouzet to create an architecturally stunning barefoot luxury resort.  Dekeyser, Massaud, and Pouzet prominently utilized local materials and worked with local craftsmen for two years to create a resort that offers guests an authentic experience. As a barefoot luxury resort, guests can wander and explore at their leisure while enjoying the stunning natural surroundings and taking in sweeping views of the Pacific while relaxing in the loungers under coconut palms. It's hard to picture a more natural setting for some of Dedon's signature creations, such as the NestRest.


Kathy and I were extremely fortunate to experience the beauty of Dedon Island during a week-long stay. It was a "fantasy island" experience from the moment we got picked up at the airport to being greeted by the entire staff entering the island. There are nine private villas but we were the only guests for four of the nights we spent there and had a staff of 45 exclusively dedicated to us. How lucky were we! Our itinerary was fairly consistent day to day. Kathy started her day with a private yoga lesson; breakfast, lunch, and dinner were served in different areas of the resort so we got to experience the beauty of the various settings. The Johnson and Wales chef took us to the market each day to shop for fish, meat, vegetables, and fruit and always asked us about our meal preference for the day. Other activities we enjoyed included paddle boarding, snorkeling, jogging (Kathy mostly), touring the surrounding villages, trips to other private beaches, massages in our villa before dinner, and of course a complimentary fully stocked bar . The island is one of the best surfing locations in the Pacific but there weren't sufficient waves when we were there. 

As we know, a Bush trip is never complete without what we now call "Kathy moments". The first one involved a snake. We saw a relatively large snake in the pathway at the resort. While Kathy went to report it to maintenance, I watched it climb up into the trees but didn't tell Kathy. I had us walk around the property and return to where I knew the snake was up in the trees.  As we were standing there, the snake started to lower from the tree above Kathy's head.  OMG, when I pointed it out, she ran to our villa and locked the door to behind her, refusing to leave for a while. Of course, the snake was harmless!

The other moment involved the shower in our villa that was designed to feel like an outdoor shower with rock floors and water flowing through the rocks to the ground below.  While Kathy was taking a shower one day, a giant venomous centipede had crawled from underneath the rocks onto the shower floor.  Luckily, she didn't know what it was so didn't freak out like she did with the snake. We contacted the maintenance staff again who found the centipede and used special gear to move it. Never a dull moment with Kathy! We were both relieved that Kathy didn't accidentally step on the centipede as she would have gotten  very sick.

That was a trip of a lifetime! Since we represent the Dedon collections and we've become friends with the founder, our stay in Dedon Island was even more special. We felt as if we were staying at Dedon's private home connecting  with his inspiration and creative vision and are now able to relate those experiences to our Dedon furniture enthusiasts all over the world.  

After having created such an incredible resort, Dekeyser  moved on to other endeavors and sold the property to a new owner . Dedon Island is now called Nay Palad Hideaway. While the resort has a new name, all the unique elements that made it world renowned for barefoot luxury remain unchanged.

As Kathy and I have made Florida our home, it can be easy to take coastal living for granted. Even if you didn't experience being a guest at Nay Palad, (formerly Dedon Island), the inspired designs from Dedon can help bring a little of the South Pacific resort to your home so you can always enjoy the true coastal living.