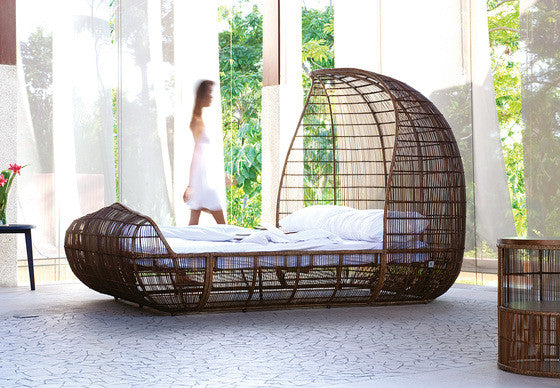 The perfect marriage of nature, crafts, and technologies – Kenneth Cobonpue
Philippines based Kenneth Cobonpue is an internationally-renowned award winning furniture designer best known for his artistic rendering of rattan furniture into functional pieces of art . His work combines contemporary design with traditional methods and crafts, resulting in stunning signature pieces. Time Magazine credited Cobonpue as being rattan's "first great virtuoso". Coming from a family heritage of design, his design concepts are inspired by plants and other living things which he attempt to capture into his furniture design in a small way.
Yoda Dining
The Yoda taps the natural tension of the rattan vine, resembling tall blades of grass growing from the seat on a summer's day. The rattan display offers comfort concealed in randomness reminiscent of nature's surprises.
Cobonpue graduated in Industrial Design from Pratt Institute in New York with highest honors then worked in Italy and Germany. He then moved back to Cebu to take over the family furniture design business. Today, his client list encompasses royalties and celebrities from all over the world. The Cobunpue brand is one of the most prominent luxury furniture brands showcasing handcrafted furnishings inspired by Conbonpue's exotic experiences from around the world. Some of his awards include Hong Kong's Design for Asia Award, the Japan Good Design Award, the American Society of Interior Designers Selection, the French Coup de Coeur Award, and the first Asian Designer of the Year title given by the Maison et Objet in Paris.
His most well-known design, the Lolah chair, is completely handmade using the same techniques employed in Asian shipbuilding. In 2005, the chair earned him Asia's most prestigious award, the Design for Asia Award of Hong Kong. He also designed the Voyage Bed which was purchased by actor Brad Pitt, and more recently furnished the Casino interior of the movie Ocean's Thirteen.
Lolah Lounge Chair
Lolah integrates old technology with modern design and is constructed with rattan for the indoor version and polyetheylene for the outdoor version, both over a powder coated steel frame.  There is a variety of fabric options for the seat and pillows to choose from.
Voyage Bed
Reminiscent of ancient reed boats, the Voyage Bed is constructed of abaca for the indoor version and polyethylene for the outdoor version.   Brad Pitt purchased this bed in 2005 for himself and Angelina Jolie and commissioned a Voyage baby crib for their first biological child, Shiloh Jolie Pitt.