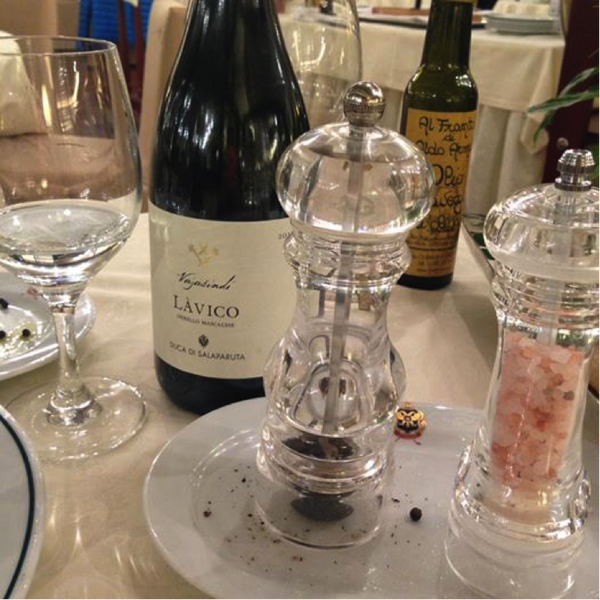 When in Italy, do what the Italians do, create chaos!
Michael and I are just back from a fantastic (and somewhat eventful) trip to Milan for the annual furniture expo, Salone Del Mobile. Let's start by saying that from a business trip perspective, the expo was very successful. We had the opportunity to meet some of the world's most acclaimed furniture designers, discuss upcoming design trends, and see/feel/touch some unique and innovative pieces of furniture. Of course, we found some new furniture lines for our Sarasota and US clients- stay tuned for some exciting news! We also got to visit the new Poltrona Frau showroom in Milano located in the gorgeous 18th-century Palazzo Gallarati Scotti which is totally worth a visit if you take a trip to Milan.
We stayed at a nice golf resort located slightly north of Milan and were very lucky to wake up in the morning to the breathtaking sight of the snow-capped Alps- quite a change from our morning view in Sarasota (which we love too). Of course, a trip to Milan wouldn't be complete without me dragging Michael to Monte Napoleone, the upscale shopping street in Milano and of course I absolutely had to bring home some Salvatore Ferragamo's shoes!
Now to an experience on our trip, our dining disaster…This one night, we decided to indulge in some fine Italian dining and made reservations at this nice restaurant. We were sipping good Italian wine and just about ready to dig in into those amazing looking dishes beautifully placed on our table – at least for a short period of time… I'm not sure what I did exactly but pepper corns were shooting everywhere- literally everywhere and the completely FULL pepper mill was empty within seconds! (See how empty it is in the picture). I created salad au poivre, fish au poivre, haricots au poivre, and my best creation, dining floor au poivre. The owner of the restaurant was sitting at the next table over. She ran over to us from her table. Out of the kitchen, the Hoover arrived to sweep up the floor, another waiter arrived to sweep off my plates and I sat there totally proud that I created chaos. When in Italy, do what the Italians do, create chaos.
Ciao!