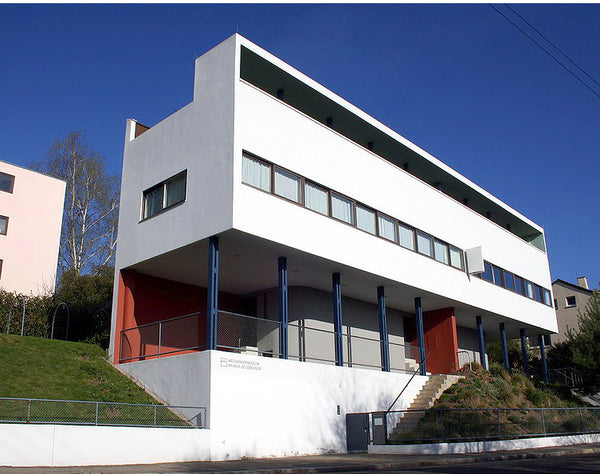 Travel: Stuttgart, The Birthplace Of Germany's Modern Design Movement
Stuttgart, capital of southwest Germany's Baden-Württemberg state, is known as a manufacturing hub. Many major companies have their headquarters in Stuttgart, including Porsche, Mercedes-Benz, Bosch, and Dinkelacker. The city is filled with greenspaces, popular parks, and one of the largest zoos and botanical gardens in Europe.
Stuttgart prospered despite setbacks during the long years of war and devastating air raids by the Allies on the city and its automobile production. However, by 1952, the city had bounced back and it became the major economic, industrial, and tourism hub it is today. Besides being the "cradle of the automobile", the city has much more to offer including breathtaking scenery, vineyards, art galleries, historic castles, fascinating museums, the world's first TV tower, and Germany's longest shopping precinct.
The biggest draw for Kathy and I was our visit of the remaining workers housing units that were built in 1927 as part of the effort to design new solutions and eliminate the housing shortage after the World War I in Germany. The estate included 21 buildings comprising sixty dwellings, designed by seventeen European architects. The German architect Mies van der Rohe oversaw the project and selected the participating architects, Le Corbusier was awarded the two prime sites and along with his cousin, Jeanneret, designed the "Semi-detached House", which was purchased in 2002 by the City of Stuttgart to be preserved by the Wüstenrot Foundation. Today, the building is home to a museum and visitors center, known as the "Weissenhof Museum im Haus Le Corbusier".

Unfortunately, many of the other buildings were demolished during World War II but the project remains an international showcase of what later became known as the International style of modern architecture.  Le Corbusier, one of the most influential architects of the twentieth century, applied the famous "Five points for a new architecture", which leverages the concept of light, air and movement, because of the open spaces and their big horizontal windows.

Following extensive restoration of the interiors and the grounds, the Weissenhof museum attracts large number of visitors and the houses of Le Corbusier are part of Unesco World Heritage. Visitors get a true feel of Le Corbusier's arrangement of spaces and some of the furnishings from the year 1927.

Truly, the seventeen brilliant architects created an exemplary residential scheme for modern urban residents. The exhibition had a tremendous impact on our global society as it resulted in  a shift from traditional architecture to the birth of a new style "Neues Bauen", the international modern architecture. If we peaked your interest and you'd like to learn more about the museum and the semi detached house, please read about it here and view some cool photos.