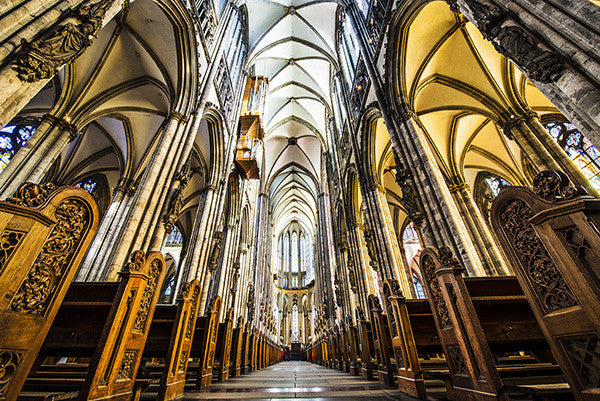 Travel: Cologne - the cathedral and the pubs
The walk across the main bridge from the IMM furniture fair to the center city has gotten far more interesting.  At first you say, how can it get any better than walking across the Reine river at night, city lights, cathedral lit up, river barge traffic, etc. until you notice an interesting phenomenon.  In the last couple of years, the bridge has become a new focus for lovers. Covering the entire span of the bridge, lovers have placed scribed padlocks on the chain fences. As part of the process, they place the lock on the fence, take a photograph (mainly so they can find it again) and jointly throw the keys in the river.  It is the coolest thing!

The cathedral in Cologne dates back to the 13th Century and it is massive!  The construction of the Cathedral began in 1248 and took, with interruptions, until 1880 to complete. It is 144.5 meters long, 86.5 m wide and its towers are approximately 157 m tall. The cathedral is one of the world's largest churches and the largest Gothic church in Northern Europe. Because of its enormous twin spires, it also presents the largest facade of any church in the world. The choir of the cathedral, measured between the piers, also holds the distinction of having the largest height to width ratio of any Medieval church, 3.6:1, exceeding even Beauvais Cathedral which has a slightly higher vault. Equally surprising, the cathedral had minimal damage from the wars.  


Lastly, Cologne has 14 breweries; Kathy and I were forced to try one! It is part of the market tradition.  Just as you would expect, long tables, waiters walking around with trays of beer to replace your last one, and food designed to absorb the beer.  Thank goodness I stopped the waiter before he put down a pig knuckle in front of me the size of an elephant's leg. Five beers later and some barely edible wiener schnitzel, Kathy and I slept like babies and woke up in the morning cured of jet lag.