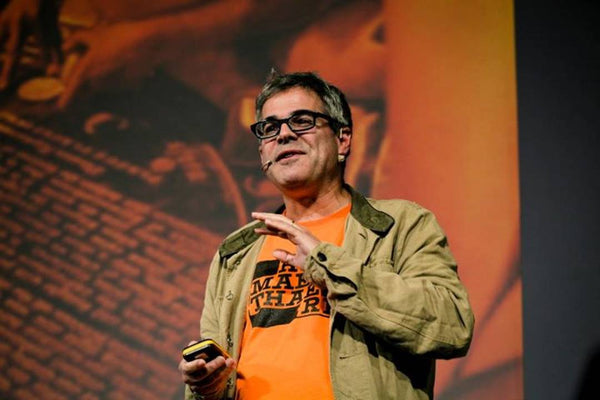 Spotlight: Eames Demetrios director of the Eames Office
Eames Demetrios is best known in the design world for his work as director of the Eames Office, spearheading the successful re-discovery of the Charles and Ray Eames design heritage by new generations.  The mission of the Eames Office is communicating, preserving, and extending the work of Charles and Ray Eames. He works closely with Herman Miller to ensure the Eames furniture is always made authentically and was instrumental in the founding of the Eames Foundation that preserves the Eames House (he is Chairman of the Board).  He has also written several books about Charles and Ray Eames—Including An Eames Primer, intended as a thematic biography of their life, work, process and philosophy, now widely used by design schools. In addition, Demetrios is an artist and filmmaker. His current large-scale project, Kcymaerxthaere, is a multi-pronged and ongoing work of 3 dimensional fiction and has been underway for 11 years. Demetrios also gives talks all over the US and internationally (43 countries spanning 6 continents) on many subjects, ranging from design to science, scale to his own work.

 Kathy and I are very fortunate to call Eames Demetrios a good longtime friend. In 2009, when Home Resource started representing Herman Miller, Eames Demetrios was scheduled to meet with us for the day. Instead I organized a four-day exciting visit for Eames. He had never spent more than one day with a retailer but was thrilled and  blown away with what we had planned, how well connected we were within our community, and the level of enthusiasm and PR we created.  I even had him presented with a Key to the City! Some of the events we had planned for his visit were:


An appearance on ABC7 news to discuss the Eames molded plywood chair and the design of the century.
A cocktail reception with the Ringling Museum board of Directors and a meeting with the various clowns in town. Charles Eames had filmed "clown face", the most respected documentary with the Venice Clown College in early 1970s. So this event was a great way to connect Eames Demetrios with Charles Eames legacy.
A large reception at Home Resource sponsored by Sarasota Magazine. The mayor of Sarasota awarded him the "Key to the City".
A speaking event where he engaged a captive audience with his alternative universe perspective.
Another reception to meet several prominent local designers.
A dinner hosted at our house with selected architects; Guy Peterson, Carl Abbott…
It was during Eames' first visit to Home Resource that we've become lifelong friends. We always spend time together in Milan at the furniture fair and at ICFF in New York.  Eames usually visits Sarasota once a year to stop by and say hi.  He was here in August to plan the installation of a plaque at the Ringling Museum to commemorate a famous battle in kcymaerxthaere.