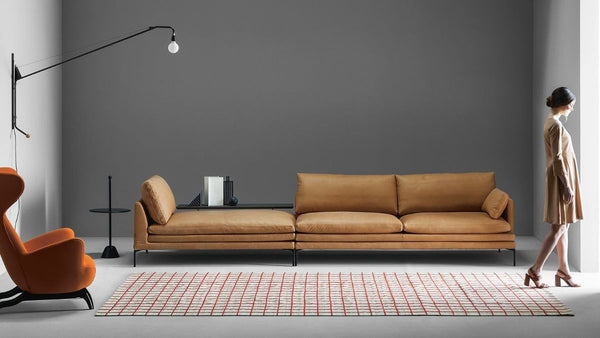 HAPPY NEW YEAR: OUR FAVORITE PRODUCTS INTRODUCED IN OUR SHOWROOM IN 2019
HAPPY NEW YEAR!
The Home Resource Team would like to wish all - good health, happiness, and success in 2020 and always.
Kathy and I annually attend furniture markets to source the latest in luxury contemporary and modern furniture.  We feel that a combination of the Cologne, Milan, New York, and the London markets are a good cross-section for us to find the best product for our clients. In addition to sourcing the latest from our existing vendors, we are always on the lookout for new vendors that meet our criteria of excellent craftsmanship, timeless design, broad product range, good fabric and leather selections and a reputation to stand behind their products. 
In the end, it is an art and not a science and great selections sometimes miss the mark. However, we would like to highlight the new selections that we introduced in the showroom over the last year that have garnered wide acceptance by you, our amazing clients.  

On Friday, we start the cycle again as Kathy and I fly off to Cologne to kick-off 2020. I wish a great year for all!
The Best of the Best:
Our favorite products introduced in our showroom in 2019
ZANOTTA: WILLIAM SOFA MODULE SYSTEM 
Zanotta, founded by Aurelio Zanotta back in the 1950s, was known for beautiful armchairs and sofas. The same sense of timeless styling is in play with the William Sofa. Damien Williamson, a talented English designer with his own practice based in Stockholm, has created a modern classic statement piece that is comfortable, desirable and stylish enough to win over the Italians.

With its contemporary good looks, the William 3-Seater Sofa is equally at home by a traditional fireside, combined with cozy cushions and throws, or set in a more clean-lined interior that shows off its design and classic credentials. A stylishly low seat height of 43cm is combined with a luxurious sense of depth (90cm), and at over 2.5 meters, it's long enough to properly stretch out. Even more importantly, it's supremely relaxing, thanks in part to its elastic suspension, supported on a high-quality metal frame. The seat cushion is made with goose down - 100% pure material and polyurethane inserts. The back cushion and armrest cushion are made with goose down - 100% pure material. The cover, available in fabric or leather is completely removable and comes in various colors.

The William sofa is available in three different sizes. The William collection also includes armchairs, ottomans, day bed and modular elements disposed to be connected.
To learn more about the WILLIAM sofa, come visit our showroom.
TOM DIXON: MELT HANGING PENDANT
Tom Dixon is now a widely celebrated global force in interior design with his own hubs in New York, Hong Kong, China, London, Los Angeles, and Tokyo. With over 600 products from lighting to furniture; they are instantly recognizable for their sculptural qualities and engineered materiality. 

The Melt Lighting was an experiment in the technologically advanced field of vacuum metallization which is a process of coating a metal such as aluminum or copper to a non-metallic substrate through evaporation. The result is MELT, a distorted lighting globe born from the collaboration with Swedish radical design collective FRONT.

"When off, the globes have an organic solid metallic mass, and when lit they take on a hallucinogenic aura that transfixes the viewer." – Tom Dixon on MELT.

Melt is a beautifully distorted light that creates a mesmerizing melting hot blown glass effect. Its surface is reminiscent of the interior of a melting glacier or images of deep space. In 2019, Tom Dixon enhanced the Melt family with a custom-made Tom Dixon LED ring integrated into the fitting.
 
To learn more about the MELT hanging pendant, come visit our showroom.
KETTNAKER: ALEA ENTERTAINMENT UNIT
Founded as a classic German furniture manufacturer in 1870, Kettnaker has repeatedly reinvented itself over the years. Already in the 5th generation of family ownership, the furniture is now produced with state-of-the-art production technology, perfect craftsmanship and an irrepressible passion for precision.
Unique to Kettnaker they permit the customers almost unlimited possibilities in the custom design of their furniture pieces. This results in high-quality furniture that is tailored to the individual tastes and functional needs of the client. Additionally, high-quality materials such as precious woods, glass, aluminum, leather, metal or ceramics, as well as the finely tuned color palette: the variety of combinations is almost infinite. According to Wolfgang Kettnaker, virtually every piece is unique that leaves the production facility. 

Kettnaker's ALEA entertainment units can be composed just like a piece of art on the wall or on the floor. Mix & match and create your unique compositions and create functional art!
To learn more about the ALEA entertainment unit, come visit our showroom.
GANDIA BLASCO: BLAU DINING TABLE 
The modern rug and textile company, Gandia Blasco, which began as a family business, has evolved into a global furniture and rug brand while keeping its roots firmly planted at home. Gandia Blasco modern rugs and furniture are distinctive for their richly detailed, hand-woven textile patterns and emphasis on comfort—each design marked by eye-catching colorways & motifs produced on traditional looms in the company's original Valencia factory.

The BLAU dining table is an exclusive design by Fran Silvestre Aquitectos for GANDIABLASCO. A fine and elegant outdoor furniture collection with an architectural feeling, a timeless sense of harmony. The structures of all the pieces of the collection look like thin white paper sheets folded by the wind. The micro-perforated metal sheets allow light to pass through the piece making it transparent.

"We respect the continuity between inside and outside, between light and ambient in the architectural project. Light thus becomes a real construction material. In this case, the designing process is the same, but we work on another dimension.  Additionally, the use of perforated panels allows the light to pass through each of the pieces making them almost transparent while also preventing water from gathering on the horizontal planes."

The BLAU dining table is part of the BLAU outdoor furniture collection. It is a table designed with powder-coated aluminum profiles and powder-coated aluminum micro-perforated sheet in a choice of colors, whose transparent finish blends into any environment. It is available in sand, anthracite, white or bronze. The choice is yours.
To learn more about the BLAU dining table, come visit our showroom.
Over 20 years, Home Resource has continued to be "the" place on Florida's gulf coast for modern and contemporary furniture. What truly sets us apart is our dedicated team of furniture experts who are solely focused on ensuring the furniture you select fits your lifestyle, your living space, and your budget.
Our experts receive ongoing training in factories and in our showroom to stay current with product lines, trends in fabrics and leathers, changing technology, and to enhance their space planning skills.