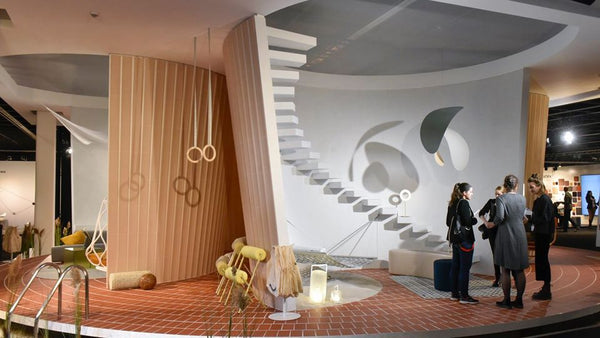 OUR SUCCESSFUL TRIP TO THE COLOGNE FURNITURE MARKET
Our recent trip to Cologne, Germany to attend the
International Furniture and Interiors Market (IMM) was very rewarding and provided a lot of insight on the current mood of the international market, we hope you find it as intriguing as we do. 
As successful as our trip was, I used this time to understand the economics of various countries and I found it to be somewhat troubling this year. Before we talk about our findings, I wanted to share this sense of pride -- Home Resource was only one of four US Retailers that made the investment to attend the market. This clearly made us stand out and I can't tell you the number of times that both German and Italian companies expressed how much they appreciated our attendance.

Overall, the German manufacturers were disappointed with the spending, or lack of at the market, and did not expect to cover their capital costs to construct their booths. For the first time in 10 years, showroom spaces at the market were empty and foot traffic was down. Buyers and retailers from the Chinese and Asian markets were noticeably absent as well. Even though the atmosphere in Cologne was different from years past, we used this as an opportunity to further connect with our German manufacturers.

Home Resource has built a reputation of being great brand ambassadors for the high-end German manufacturers we represent. Not only are we successful with their products, but they know that we invest in their brands regarding marketing, showroom displays, and training. As we speak, Kathy is planning to take Brian and Eric on a factory tour in Germany to visit Kettnaker and Draenert. These investments in their brands result in better support from the manufacturers, project leads, and a sense of "family." It is so rewarding for us to see the owners at the market, shake their hands, address them by name and share a cup of coffee over shared experiences.

We are very excited to give you an early preview of what is coming to our showroom in the second quarter!
 
Below are the top 4 products that excited us from the 2020 market
TADO DESIGNED BY KASCHKASCH
FOR INTERLUEBKE
For over 80 years, Interlubke has committed to craftsmanship and hand production to create genuinely unique items for their customers that last. From beginning to end, the legendary Interlübke systems of adjusting heights, lengths, corners, colors and materials result in customized furniture to the customer's requirements. At Interlubke, they customize each sideboard, cabinet, wall system or bed just like an expertly tailored garment.

The word "Tado" is Japanese and it translates into the meaning of "many times". And that is exactly what Tado can be in your home: it can be a sideboard, a room divider or a beautiful display system. Consisting of a multitude of modular boxes, back panels, shelves, and glass elements, Tado can be customized to your wishes and transform itself into a cozy design object that creates space and leaves room for your collected treasures and art pieces.

Kathy and I were both impressed with the high quality of the product and its ability to be configured to our clients' spaces and needs. 
TRAMPOLINE DESIGNED BY PATRICIA URQUIOLA
FOR CASSINA 
At this market, Cassina introduced its first-ever outdoor collection which blended reimagined midcentury iconic pieces with contemporary alfresco pieces designed by Rodolfo Dordoni, Philippe Starck and Patricia Urquiola.

For us, we instantly fell in love with the new pieces from Patricia Urquiola.  For Patricia, her design concept came from her travels further north – "During a trip to Greenland, I noted these little trampolines outside the locals' houses. This playful object inspired me to design Trampoline." Described as a love bed with a strong personality, the curvaceous structure invites guests to experience the soft upholstery and rope detailing.
Additionally, Patricia has relaunched the LC1 chair in an outdoor-friendly iteration that engages the passion that Le Corbusier had for the outdoors. Treated with a special textured paint in five colors and with a collection of specially designed covers, the LC1 chair is a study of human posture with the intended design to be relaxing and to foster conversation with friends and family within the universal harmony of nature.
SILHOUETTE DESIGNED BY JAMIE HAYON
FOR NANIMARQUINA
After the success of the first collaboration with designer Jaime Hayón in 2017, Nanimarquina presents Silhouette, a collection of rugs for indoor and outdoor use that highlights the acclaimed casual style of the designer and artist.
Depicted with a delicate stroke, the illustration defines the silhouettes of several imaginary characters that intertwine and coexist in a beautiful composition. Hayón subtly introduces color through small elements brimming with personality that help to interpret each of the images. Nine faces are distributed at different angles so that the rug can be viewed from any perspective, fitting perfectly in any space.
When discussing the design from the sketch to the final product, designer Jaime Hayon says, "This happens in very exceptional cases in which the format, material, and use are ideal to portray emotivism through the figurative. Rugs for Nanimarquina are the perfect example; the format is ideal to be able to work with absolute freedom, like a painting or a tapestry."
KALLISTO DINING TABLE DESIGNED
BY ALEXIA MINTSOULI FOR DRAENERT
Draenert was highly creative in how they cut a stone slab into individual geometric pieces and reassembled the slab into tabletop where opposing veins enhanced the natural characteristic of the stone. The designer's love for natural stone can be felt quite clearly with the Kallisto.

According to the designer Alexis Mintsouli, the Kallisto table is a study on interdependent systems like the human body where all the parts are linked together, work together as a whole and create an optimum balance. In Kallisto, the structure of the legs affects the marble top, by giving different shapes and rearranging the marble slab in new smaller pieces. A creation of a new system where the parts are inseparable.
Kathy and I were so excited at the beauty of the Kallisto Dining Table in the Draenert showroom that we bought it. It was the first one produced and Dranert was going to arrange to have the designer sign and number underneath. Expect to see this table in our showroom in April!
In closing, although we had to brave the cold and decline multiple offers to consume sausage by the meter, this was one of our best Cologne markets that we have experienced over the last 10 years.