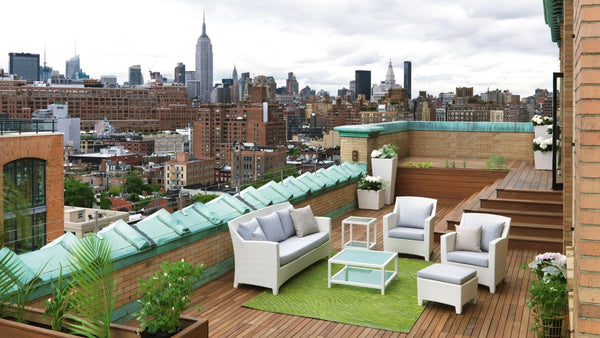 Dedon's Bobby Dekeyser - From Soccer Star To First In Outdoor Furniture
Bobby Dekeyser was once a star soccer player from Germany who decided to begin designing outdoor furniture. His company, DEDON outdoor furniture, singlehandedly brought outdoor furniture into the future with the release of the Daydream collection. Richard Frinier, Daydream designer, used Hularo for production, which is a high-density fiber from polyurethane invented by DEDON in the 90's. Hularo redefined the industry, where previous furniture was made from teak, stainless steel, or rattan. Further, the lounge chair had barely changed for 50 years before Dekeyser came onto the scene.

There have been many designer DEDON outdoor furniture collections since Daydream, including the Yin Yang sectional created by the Swiss Nicolas Thomkins. This piece is a teardrop shape, curved into two halves to symbolize the traditional Chinese symbol. While post manufacturers are only interested in what can be mass produced, Dekeyser recognizes the importance of unique pieces such as the Yin Yang sectional. He is far more interested in artistic pieces that stand out from the crowd, rather than making a fast dollar on a piece that looks exactly like thousands of others. Designers have artistic license when working with Dekeyser, who values imagination over stagnation.


Dekeyser was the Bayern Munich goalkeeper for more than one season before his career-ending injury in 1990. After he recovered from this, he decided he wanted to build a company based on having fun and working with those he loved. He contacted his brother-in-law, Brando Donapai. An import company began, with raffia giraffes and handpainted skis coming from Madagascar. This company struggled in 1993, when Dekeyser attended a furniture fair in Cologne, Germany. During that fateful visit, Dekeyser discovered rattan furniture from the Philippines. He returned home and asked people he knew in the plastics industry to help develop a hybrid that would be as flexible as straw. He wanted colorfast, lightweight, rustproof material that was also weather-resistant, because it was to be woven into outdoor furniture. From the beginning, Dekeyser knew he wanted to do something new with the outdoor environment. This was the beginning of Hularo.


Later, DEDON would invent treatments to give more color and texture to Hularo, including the look of exotic wood types from around the world. Craftsmen hired by the company on the island of Cebu, Philippines, learned how to bend this plastic around a powder-coated aluminum frame, creating gorgeous furniture design that conceals any framework. The structure of other outdoor pieces always showed through, and this was disagreeable with designer Thomkins. This is why he initially helped to design DEDON furniture to never reveal the structure beneath the design. He believed that no one wanted to see what was underneath the beautiful colors and fabrics. This is why every piece of DEDON furniture rises above any other outdoor furniture on the market; the sharp attention to detail and innovative technology creates superior pieces.