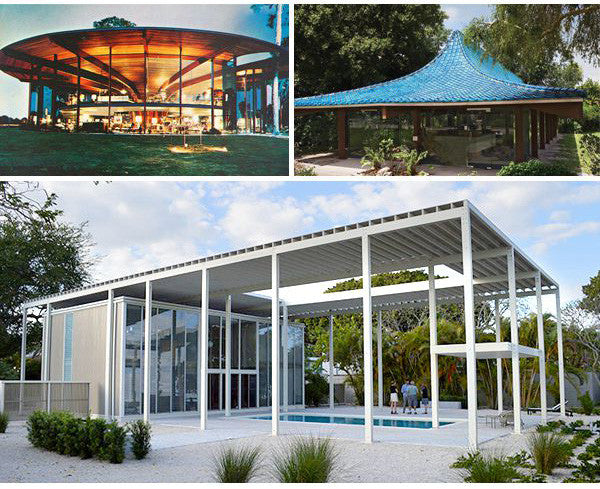 Arts & Culture: Sarasota Architectural Foundation
The Sarasota architectural foundation started Sarasota Mod week three years ago to celebrate the Sarasota School of Architecture. Patterned after the Palm Springs Modern Week, the SAF Mod Week consists of presentations, house tours, trolley tours, and wine and dine events in historic homes. It is never a bad experience to either attend a cocktail reception or a sit down dinner at the Umbrella House and try to understand what Rudolph was thinking 60 years ago when he designed the home.

Last year marked the celebration and recognition of Victor Lundy. What is so unfortunate is that many of his works have been remodeled or demolished. Little did we realize that the Vision Works building on the trail next to the high school was an amazing architectural gem, the blue pagoda building on the north trail as well as the outdoor church. SAF is such a professional organization that has worked tirelessly to preserve the beauty of our town. Victor Lundy appreciated the recognition and care that he was provided over his time at Sarasota MOD and donated his entire art collection to the foundation. Thank you, Victor!

This year, the celebration is around Tim Seibert. And while the plans are still in development, mark your calendar for November 11-13.
more information at http://www.sarasotamod.com.
One event you should attend is the interview of Tim Seibert by Joyce Owens. I attended a dinner a couple of years ago where Joyce interviewed Tim. She is excellent at getting Tim to story-tell and share exciting stories about the history and evolution of the Sarasota School of Architecture. It's both fun and informative.