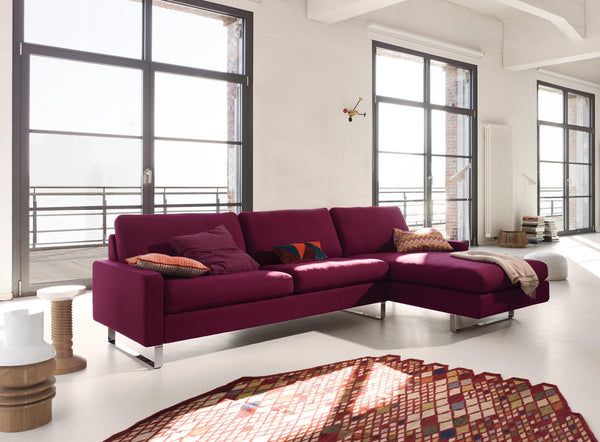 Customize Your Luxury Furnishings
Adding a personal touch to your home furnishings is no longer simply about choosing a color. With the totally customizable furniture from several European manufacturers available at Home Resource, the range of choices has extended to cushion firmness, seat depth, and arm and leg styles, widths and heights. Is one family member six-feet-plus while another tops out at 5'2"? You can design a sofa to fit both comfortably! No more knees-in-the-chest awkwardness or dangling feet stretching to touch the floor.
Take a Seat
How do you personalize a major piece of furniture? How do you choose from myriad options? By answering a few simple questions that have to do with your lifestyle. What will you use the furniture for, what kind of a look do you want to project? If you desire a formal, pristine appearance, you will want to choose smooth, firm cushion material. Do you prefer the casual, lived-in look for your furniture? Adding down to a cushion will result in a more relaxed look, as the fabric will wrinkle.
There are half a dozen levels of firmness in the cushion material. You needn't choose just one cushion density. Soft and hard can live side by side. They can also live back to back, as the seat back density can differ from the seat cushion density. We recommend you sit on everything, try out the combinations you think will meet your needs.
The
Plura

multifunctional

sofa

by

Rolf

Benz

adapts

to

your

favorite

position

in

just

a

few

moves

with

arms,

backs

and

footrests

that unfold

and

seats

that

swivel

to

transform

a

sofa

into

a

chaise.

This

piece

is

great

for

lounging

and would

be

the

ultimate

fun

and

comfortable

addition

to

a

media

room.

The sleek lines of contemporary furniture lend themselves well to leather and to many fabrics, with solid colors being the most popular. Not necessarily gray, brown or white. We recently delivered a Lavender ultra suede chaise to a client. The color was inspired   by their wallpaper and complemented with an area rug. The result was a gorgeous setting with a pop of bright color.  You have pets, but love the look of leather? They can peacefully co-exist if you choose DURA leather, which offers the greatest degree of protection. If you are not concerned with oils, you may prefer the top grade, non-treated PURO aniline leather. A natural material, it adjusts to your body temperature. In between, there is semi-aniline leather, protected with a thin top coat to guard against wear and staining.

Especially luxurious

on the

plinth 

base,

the

enclosing backrests and deep seats

of

the

Jalis sectional by COR creates

a

sense

of

relaxation and hospitality.


Take a Seat
The choice of metal vs. wood legs is more form than function. Our design consultants help you match the height, color, and style of leg to your customized furniture piece. On the other hand, perhaps you don't want legs at all, but prefer a solid plinth base in a contrasting or complementary color? Again, our consultants can help you get your footing.

 

The Conseta collection by COR is the German manufacturer's best selling line of customizable furniture. Introduced in 1964, its longevity and popularity are testament to the relevance of timeless contemporary design.
Make Meals Memorable
Customization extends to dining room furnishings as well. German manufacturer Draenert will take your tabletop template into their stone garden and apply it to any of 150 stone slabs in several positions, allowing you to choose exactly what portion of the slab you want your tabletop cut from. Then you can choose a glossy, satin or leathered (unpolished) finish for your personal stone tabletop.
In addition to the stone top, you can choose the size of the table, the shape of the tabletop, the placement of the extension for the leaves, the table base, and the finish on the tabletop when purchasing a custom table from Draenert.
When building a custom furniture piece, we advise you to allow for up to 12 weeks for delivery. The pieces are manufactured in Europe and must be shipped. Ask yourself when you really need the piece, and plan accordingly.