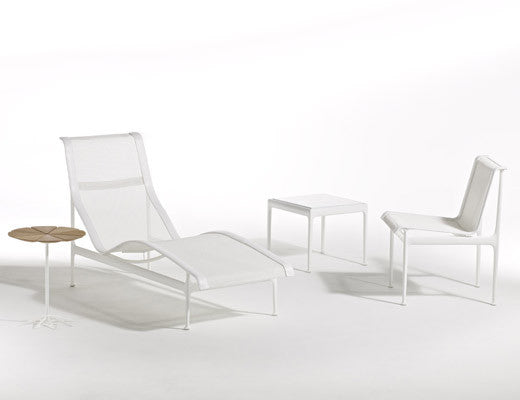 HOME AND DESIGN MAGAZINE MAY 2016 - FEATURED HOME RESOURCE

Outdoor Furniture -
Invest in Quality to Beat the Elements

The natural elements that makes Florida a virtual paradise - brilliant sunshine, tangy Gulf breezes, and invigorating salt water - can wreak havoc on the very furniture designed to help you enjoy them. Bargain priced plastics, cheap fabrics, and flimsy construction not only pose safety hazards, but they are also uncomfortable and will require frequent replacement. A wise investment can bring you decades of relaxation with minimal maintenance. To ensure that your outdoor furniture will be durable, functional and beautiful, concentrate your search on top quality manufacturers whose designs are timeless. Home Resource in Sarasota is your source.

Aluminum is the Gold Standard
Outdoor furniture made from corrosive-resistant aluminum doesn't need to be shielded from the sun, rain or temperature extremes. And since it's so lightweight, turning your chaise lounge to catch the sun, moving a table into the shade, or rearranging a seating group for your guests is easy. Maintenance is minimal, and aluminum furniture can be kept clean with soapy water.
Wicker or Rattan?
Many people confuse synthetic resin wicker furniture with "rattan." Rattan is a natural fiber while wicker refers to the weave. Synthetic resin is a popular material for outdoor furniture, and when skillfully woven, resembles rattan. It is also lightweight and cleans easily with soap and water. If you have had a bad experience with synthetic resin furniture that unraveled, became brittle, and cracked, it was because the furniture was a low-quality polyvinyl chloride (PVC) material, a widely produced synthetic plastic polymer.
Revolutionary Resin
German manufacturer DEDON revolutionized outdoor furniture with its creation of the world's first and finest synthetic resin material designed for weaving. Its proprietary DEDON Fiber is non-toxic, fully recyclable and ecologically sound. DEDON is the only outdoor furniture manufacturer that controls its own fiber production, and the fiber is tested for an entire year before sending it to DEDON's master weavers in the Philippines. The result is a durable, weatherproof and environmentally friendly product that can stand up to the triple Floridian assault of sun, wind and salt water.
Designed for Florida
The 1966 Collection from Knoll was designed specifically for Florence Knoll's Florida home by Richard Schultz. Knoll wanted well-designed furniture that would withstand the corrosive salt air. The 1966 Collection is a part of the Permanent Collection at the Museum of Modern Art, New York (MoMA) and has been re-engineered to incorporate the best modern materials, including Teflon thread, powder coat paint, and stainless steel. Its clean lines, scale and proportions were all carefully considered to stay relevant with changing design aesthetics.
Whether your design tastes run modern or traditional or you enjoy an eclectic mix, choose outdoor furniture based on performance, not price. You will invest a little more in pieces from the world's foremost manufacturers, but you will be satisfied with the results, enjoying your paradise for years to come.
Home Resource exclusively represents a number of luxury high quality outdoor furniture brands including Dedon, Kettal, Richard Schultz, Sifas, Kenneth Cobonpue, and others. Visit their showroom to see these brands on display. Their education sales personnel can help you with space planning and selecting the right furniture to fit your environment and your lifestyle.