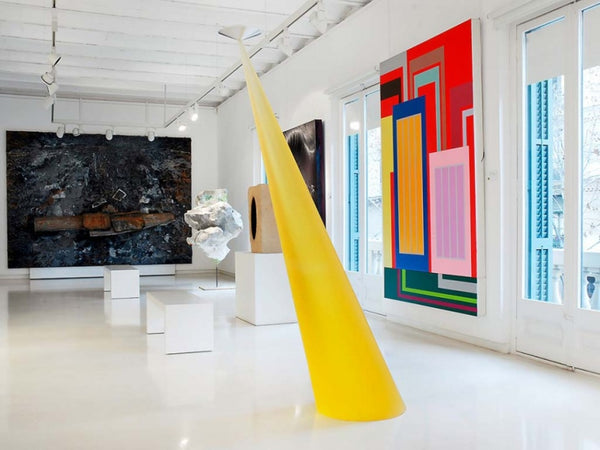 THE PLACES WE GO: MILAN TO BARCELONA

A couple of years ago, Kathy and I had the pleasure of meeting with representatives of the outdoor furniture company Kettal, while attending the Milan Furniture Show. Our chance meeting must have been fate because we hit it off immediately and Kettal offered us the opportunity to be their only representative on Florida's west coast right then and there.

With a new blossoming partnership in the works, Kettal invited Kathy to join other American contract reps for a tour of their factory in Barcelona immediately following the Milan show.


Talk about a dream come true invitation. Unfortunately, Kathy and I already had our plane tickets booked to head home and the itinerary couldn't be changed. But we just couldn't pass up this opportunity, so Kathy and I flew home from Milan on a Saturday and the following day Kathy jumped back on a plane for a red-eye flight from Sarasota to Barcelona. Three days of meetings with Kettal and she was back home in Sarasota on Thursday. Can you say jet-legged?

So this story is pretty good so far, but what I really want to share is Kathy's most talked about part of her trip to Barcelona. And no, it wasn't about Gaudi architecture, FC Barcelona or countless hours on airlines, Kathy couldn't stop talking about the Kettal founder's private collection of avant-garde art. Housed within the same building as the Kettal corporate offices, Kathy was escorted into a private gallery to experience their collection. Creations by British artist Damien Hirst alongside works by Anish Kapoor, Julian Opi, Guinovart, and others. It was so unexpected and so spectacular.

Damien Hirst is the "British Bad Boy" of the art scene and the United Kingdom's richest living artist. He has many series, but the Kettal founder collected one of his "Spot" paintings and a couple of butterfly-oriented paintings. The spot paintings are amongst Hirst's most widely recognized works. No two spots touch, the diameters are the same and no color is repeated on the same canvas. The paintings have no discernable secrets to tell but are calming and addictive.

For Damien, the appeal of butterflies is how they appear to retain life after death. In his paintings, dried butterfly wings are stuck onto a surface of wet paint to create artwork that addresses dualities that are prevalent in much of the artist's work: beauty and horror, and death and resurrection.

Needless to say, not only was this spur of the moment trip a magnificent opportunity for Home Resource to establish a relationship with one of the world's more revered outdoor furniture brands, Kathy got to view a collection of masterpieces with the Kettal team. Time well spent indeed.

KETTAL - OUTDOOR FURNITURE 
Kettal is a family-owned business started in 1966 that has developed into one of the most revered outdoor furniture brands in the world. Best known for the powder-coated aluminum furniture, Kettal collaborates with the most important designers in the interior furniture design scene to create outdoor furniture.

Designers including Patricia Urquiola, Ronan & Erwan Bouroullec, Rodolfo Dordoni, and others collectively contribute to a well-rounded, innovative and unique collection.

Kettal provides a complete outdoor lifestyle product line which includes pavilions, outdoor lounge seating, dining, lighting, rugs and kitchens. Kettal prides itself on European made quality with all of its products manufactured in the firm's plant in a small coastal town 45km from Barcelona. The in-house manufacturing allows closer attention to detail as well as the ability to customize to meet clients' needs, making each piece of furniture unique and exclusive.

At Home Resource, we appreciate the importance that Kettal places in research, both scientific and technological. This investment means that the Kettal products are produced with superior qualities that help them withstand Florida's extreme weather conditions for years. The highly innovative nature of Kettal ensures one can expect unique luxury high-quality products for their outdoor environment.

Please stop in our showroom to experience the unique design and craftsmanship of Kettal.