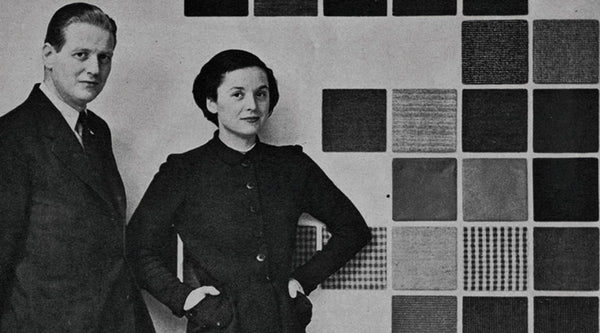 Florence Knoll - A Driving Force Of American Modern Design
Florence Schust, born in Saginaw, Michigan in 1917, is a female pioneer of today's furniture design. She studied on the Cranbook Acadamy of Art campus in Bloomfield Hills, Michigan, part of the greater Kingswood School. During the 1930's, she was a protegee to Eero Saarinen while she studied architecture at three locations: Cranbrook, the Armour Institute, and the Architectural Association in London. Florence worked alongside many leading designers and architects, including, but not limited to, Marcel Breuer, Walter Gropius and Wallace K. Harrison.


Florence's journey with Hans Knoll Furniture began in 1943 in New York City. She worked in the Madison Avenue location, soon becoming a design and business partner to the owner himself, Hans Knoll. She quickly became instrumental to the start of the Knoll Planning Unit, working closely with the company's clients identifying specific work space needs and developing modern furniture solutions for each unique situation. This was a forward-thinking model for her time, and helped to advance design practices of the day. It has become the model in use by nearly all corporate designers. Florence coined the company's longstanding motto from this process: "Good design is good business."

Knoll Associates Is Founded

This talented, young woman was married to Hans Knoll in 1946, forming Knoll Associates, Inc. That same year, Knoll and the company were commissioned for the interior offices of the Rockefeller family at Rockefeller Plaza. The Rockefeller families and established businesses would continue to commission the company for future modern furniture projects.

Florence Knoll went on to design the Madison Avenue Knoll showroom in 1951. Other showrooms designed by her opened in 1953 in Chicago, then in 1956 in San Francisco and Milan.

Total Design - Revolutionizing Interior Planning

Ms. Knoll effectively revolutionized the idea of interior area planning. She believed in total design, from manufacturing, to architecture, graphics, interior design, textiles, presentation and advertising. This belief, along with her application of ideas, was different than any other standard practice during her time. However, she turned the tide in design, and her ideas are now mainstream in design practices.

Florence Knoll had a resume that extended to include designing executive offices at CBS during the 50's, as well as numerous other projects in the same decade. She continued to carry the company after the unfortunate death of her husband during an auto accident in 1955. She married Harry Hood Bassett, a banker, three years after Hans' passing. She retired from the presidency of Knoll in 1960 and became Director of Design. She completely retired from the company in 1965.

A Lasting Legacy And Enduring Industry Recognition

Ms. Knoll Bassett has been the recipient of numerous awards over the course of her career. These awards have come from interior design experts, as well as the President of the United States. She was the main driving force and inspiration for Knoll design. Her practices served as a foundation for Knoll's mission, as well as laying the ground rules for today's design values.
more about Knoll furniture