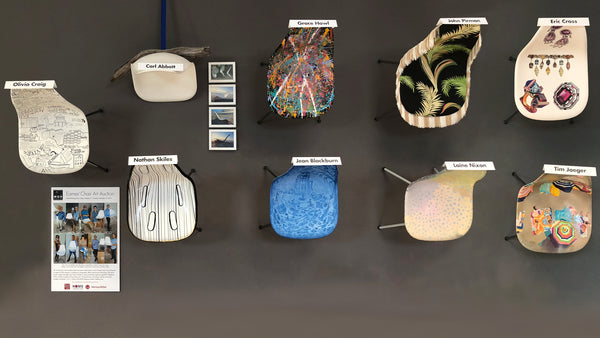 Eames one-of-a-kind artist chair
Ten amazing Sarasota artists have transformed the iconic Eames© Chair to be auctioned off at SarasotaMOD 2017.
The auction will help raise funds to benefit the Sarasota Architectural Foundation's ongoing programs that educate and create awareness about the importance of the Sarasota School of Architecture movement. This incredible event is made possible by the generous support of Home Resource and Herman Miller.

The chairs were unveiled at MOD's Kick-Off Party at the BOTA Center, hosted by MOD Sponsor Howard Davis. The artists' chairs are currently on display at Home Resource showroom.  The online bidding began on October 27th and continues through MOD Weekend November 12th.  
To view or bid on these one-of-a kind chairs,visit https://www.facebook.com/sarasotamod

Chair winners will be announced at 11:30 am on Sunday, November 12th at the at SarasotaMOD Rosemary District Walking Tour at Home Resource.

For more information, visit http://www.sarasotamod.com/artisteameschairs/


Carl Abbott
Artist Statement
BEACH / SHELL
SEAT —  Best angle for elegant form - tilt with driftwood wedge
MOBILE  —  Elegant form in motion - hang from straps

About the Artist
Carl Abbott is an original practitioner of the Sarasota School of Architecture and honorary chairman of SarasotaMOD Weekend. He studied under Paul Rudolph at Yale University, and worked with I.M. Pei in New York City, and was an original member of TEAM4 in London with his Yale classmates, Richard Rogers and Norman Foster. In the 1960s, Abbott opened his firm in Sarasota. Abbott is one of the most highly awarded architects in the Florida/Caribbean region, winning AIA Florida's Medal of Honor for Design, the Architectural Firm Honor Award, and the greatest number of Test of Time Awards ever presented for "architectural designs of enduring significance."
Abbott continues to design new projects and deliberately keeps his firm small to allow for close personal involvement.
Jean Blackburn
Artist Statement - "The process used in transforming the Eames chair was borrowed from my background in intaglio printmaking. The lines were incised with a wood burning tool, the resulting burr along each incision was scraped away to produce a smooth surface. As in the printing of an intaglio, or etching plate, oil paint (instead of etching ink) was carded over the entire surface of the chair with extra care given to filling all lines with paint. The next step was a repeated sweeping motion over the surface with a tarletan, a sized cheesecloth material used in etching. I then moved on to more vigorous wiping with rags and swabs to lighten the negative spaces. My inspiration was the unique interpretation of objects by preschool aged children and the abundant life above and below Sarasota's waters."

About the Artist
A third generation Florida native, Jean Blackburn grew up on Anna Maria Island. She holds an MFA from the University of Oregon, a BA from the University of Florida, an AS in Biological Parks Technology from State College of Florida, Gainesville. She held teaching positions at New College of Florida, Ringling College of Art and Design, University of Oregon and State College of Florida, Manatee. Jean is a certified Master Gardener and Master Naturalist, has served on Sarasota County's Environmentally Sensitive Lands Oversight Council, governing boards of Sea to Shore Alliance and the Friends of Myakka River State Park. She sailed and painted throughout The Caribbean, Bahamas and Central America. With her husband, Steven Schaefer, part of each year is spent on a small farm in Old Myakka, a​nd a​ cottage in the Village of Longboat Key​.​ ​Four​ life altering​ trips through Cuba​ resulted in her importing and curating 3 ​exhibitions of Cuban art in the Sarasota ​area and and an exhibition of her work in Cuba. Her work is included in private and public collections throughout​ the US and Europe.
Jorge Blanco
Artist Statement - "The idea of using a chair as a canvas is unusual, and inviting a sculptor to do this project is even more so. It was a challenge having wonderful artists, architects and painters as company… Since the invitation to help a very important cause it became more than a challenge, it was conducive to a solo- brainstorm. I invited two of my blue characters to sit on a playful ring, representing the whole world, helping to keep a lonely and very white chair company."

About the Artist
Jorge Blanco is an international artist who has created a distinctive sculptural language over more than forty years. Blanco has a 1971 degree in industrial design from the prestigious Neumann Institute of Design in Caracas, Venezuela, studying under artists Gego and Cornelis Zitman. After graduation, Blanco began his career as a sculptor, freelance graphic designer and furniture designer. In the late 70's, while studying at Rome's Academy of Fine Arts, he created the most iconic comic strip in Venezuela's history, "El Náufrago" (The Castaway). Jorge has lived and worked in Sarasota, Florida since 1999 and has created numerous public art commissions and works for private collectors worldwide.
http://www.jorgeblancosculpture.com/
Olivia Craig
Artist Statement - "Tim Seibert's "Life Chair" is an illustration that chronologically narrates the fascinating life of architect Tim Seibert. Tim Seibert's story naturally begins with his childhood, growing up as the son of a United States Naval Captain. The childhood vignette continues with his family deciding to move to Florida by simply drawing "Sarasota" out of a hat. The next image depicts a young Seibert growing up in McClellan Park – hearing the circus animals roar in the wintertime from his bedroom. Completing his formal education, Seibert moved back to Sarasota and worked as a draftsman under Paul Rudolph to initiate his professional career. In 1955, Seibert founded his own architectural practice. The illustration highlights many of his iconic designs, awards and quotes. Currently, Seibert resides in Boca Grande, where he spends his time designing award-winning boats. Seibert was kind enough to add his stamp of approval to the piece – you'll find his signature on the back."

About the Artist
Olivia Craig is a Clemson Tiger ('13) with a Bachelor of Arts in Architecture and a University of Florida Gator ('17) with a Masters in Architecture. She loves architecture and is inspired by illustration. She is originally from Dade City, Florida, and a local to Clemson, Charleston, Key West and now Sarasota. When she is not working at Seibert Architects, she spends time with her husband and their two spoiled Dachshunds, Sammy and Maybel. Olivia loves living the Sarasota life, including but not limited to: the perfect weather, the beautiful scenery and the rich legacy of excellent architecture.

Eric Cross
Artist Statement - "I focused on the curves of the chair,and felt it lent a feminine edge, so I applied large jewelry image's to the front and back to play on those curves."

About the Artist
Eric Cross has been General Manager for Home Resource Contemporary Furniture since 2010. He previously held the Visual Manager position at Saks Fifth Avenue in Sarasota, and Marshall Field's flagship store in Chicago. He is a former graduate of Ringling College of Art + Design with an emphasis on Graphic Design and Illustration.
Grace Howl
Artist Statement - "The concept behind the design is: 'Eames meets Pollock'.
It is a fun way to see what happens when great design and lively colors come together! It's an original grace howl piece! Hope SAF has fun with it..."

About the Artist
Grace Howl was born and raised in Pennsylvania. She was kicked out of art class in second grade because she refused to stay within the lines and wanted the leaves of her tree to be purple and red instead of green. Grace started painting less than a decade ago and considers herself a 9-year-old "Outsider Artist" since she is self-taught. Grace says: "Abstract art is my language and conveys my emotions, thoughts, and my belief in the interconnectedness of life and creativity."

Besides painting, Grace has also created, and twice opened to the public, an art installation based on the 25,000 pieces of correspondence and love letters between Georgia O'Keeffe & Alfred Stieglitz.

Her work is in commercial as well as private collections in Sarasota, Casey Key, Naples, Siesta Key, Long Boat Key, Chicago, San Francisco, New York and the United Kingdom. She is a member of Center for Architecture Sarasota, Interior Design Society, Women Contemporary Artists, Donor Member of Art Center Sarasota, Sarasota Architectural Foundation and The Ringling Museum.

Grace has been a resident of Sarasota since 1989 and has been involved in a number of philanthropic efforts and contributed her services throughout the Region. In October 2017, she opened her studio and gallery in Sarasota's Rosemary District.

Tim Jaeger
Artist Statement - Beach Chair is from a new series of paintings Tim Jaeger began about a year ago. Jaeger collaborates with local drone operators to fly over our beaches and capture photo/video of aerial shots-which then parts of the photos become paintings. These works are now on view at State of the Arts Gallery. Additional paintings can be view at www.regeaj.com

About the Artist
Raised in Paducah, KY, Tim Jaeger moved to the resort coastal town of Sarasota, FL in 1998 to earn his bachelors of arts from the Ringling College of Art + Design. Since graduating in 2002, Jaeger has emerged as a leading artist in South Florida and beyond. Currently, he continues to maintain his Sarasota studio while working towards engaging the community and fostering new artistic partnerships. Jaeger's paintings can be found in numerous public and private collections both in the United States and abroad.

Laine Nixon
Artist Statement - "I chose to cover my chair in an acrylic "paint skin" with a simple pattern of shifting colors. I developed this process as part of my "Zuhanden" series of paintings – a series of 48"x48" non-objective works where I embed thinned washes, pours, or otherwise watery paint within a heavy-bodied, textured acrylic gradient. I noticed if I applied the gradient mixture to a very slick surface, it would peel right up. I became enchanted with the idea of making a large enough "skin" for the Eames chair, giving the chair a unique and surprising texture. While it can be tough to interject new materials into one's process, it also yields the rewards that accompany any experimental work. I thoroughly enjoyed it. Thank you for the challenge!"

About the Artist
Laine Nixon is a visual artist based in Sarasota, FL. She earned her BFA in painting from the University of South Florida. She has participated in numerous regional exhibitions, including a solo exhibition at Gallery 221@HCC. Nixon's work was published in Studio Visit Magazine and is in the collections of RBC Wealth Management and SRQ Media. Development of her work has been supported by a residency at The Longboat Key Center for the Arts, and the 2016/17 John Ringling Towers Fund fellowship which includes a residency at the Hermitage Artist Retreat. She is a member of SARTQ, a Sarasota contemporary Artist Collective.
John Pirman
Artist Statement - "This 'Va-Va-Va-Voom Chair' represents cheeky fun for a serious icon such as this Eames chair. I mashed the styles of two decades into one…the 40s meet the 50s. The curvilinear leaf pattern of the vintage barkcloth trimmed in striped fringe makes a swoopy Eames chair look like it's ready to get up and dance."

About the Artist
Illustrator John Pirman has done work for The New York Times, Wall Street Journal, Macy's, J.McLaughlin, Museum of Modern Art, and The Ringling Museum of Art (it's recent rebranding and naming system), among others. Each month, John creates an iconic image of Sarasota for Sarasota Magazine's back page which portrays why this town is a great place to live.
Nathan Skiles
Artist Statement "My inspiration for this project was immediately met with the intimidation of collaborating with the work of such luminaries. I think it's absolutely necessary to acknowledge that the object alone holds such an important place in art and design history."
 
I wanted to acknowledge and employ the history of the Charles and Ray Eames' work, specifically their contribution to the war effort as designers. With that in mind, I chose to focus my design on their research into molded plywood forms, specifically their leg splint. By applying vinyl decals to the surface of the chair, I hope to integrate my interests and aesthetic sensibilities into the Eames' profound design.  

About the Artist
Nathan Skiles is an artist focused on the complex role of craft and technology in their service of images of power and prosperity. Skiles serves on the faculty of the Fine Arts department at the Ringling College of Art and Design and as co-curator at Art Center Sarasota. http://nathanskiles.com/home.html