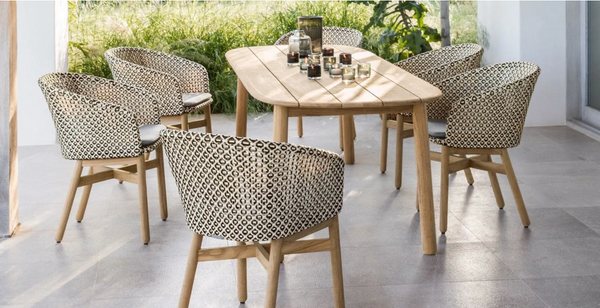 Dedon: Redefining Outdoor Furniture
Dedon's reach extends across the globe, gracing the decks of luxury yachts, exclusive resorts, and private residences alike. Their international clientele testifies to the universal appeal of their designs, making Dedon a name synonymous with global sophistication.
Innovative Materials
The production of Dedon's proprietary fibers is a marvel of modern engineering, in which the production consists of seven fully-automated extrusion machines that tirelessly produce approximately 55,000 kilometers of Dedon fiber annually. The consistency achieved in this process nears perfection, ensuring uniform quality throughout. Furthermore, Dedon utilizes state-of-the-art equipment that replicates the wear and tear of decades of exposure to elements such as sunlight, saltwater, and chlorine; guaranteeing that each spool of fiber attains and adheres to an uncompromising standards of excellence and resulting in furniture that can withstand the rigors of outdoor life without losing its charm.
Timeless Appeal
Dedon collaborates with some of the world's most renowned designers, including the likes of Philippe Starck, Jean-Marie Massaud, and Stephen Burks. This marriage of design genius and Dedon's technical prowess results in outdoor collections that are truly groundbreaking, both in terms of aesthetics and functionality that will age gracefully, maintaining their original beauty year after year. This timelessness is a testament to Dedon's commitment to longevity and quality, ensuring that your investment endures
Hand Crafted Weaving
Dedon's most distinctive feature is its unparalleled expertise in weaving. Their skilled artisans transform synthetic fibers into intricate, hand-woven masterpieces. Each piece exhibits a level of craftsmanship usually reserved for fine indoor furnishings, making a profound aesthetic statement while defying the elements. Dedon's commitment to luxury is not limited to appearances. Their furnishings are exceptionally comfortable, inviting you to recline for hours in the embrace of plush cushions and ergonomically designed frames. Whether it's a sun lounger or a dining chair, Dedon ensures your outdoor experience is as comfortable as it is stylish
Sustainability
Dedon fibers stand unmatched in terms of robustness, longevity, resistance to weathering, and the opulence it exudes in color, texture, and tactile qualities. What further sets their fiber apart is its eco-friendly nature, being both recyclable and non-toxic, and burning as cleanly as a pristine candle wax. These materials not only mimic the tactile qualities of natural rattan and wicker but also demonstrate exceptional durability. But Dedon's dedication to the environment goes beyond materials. They operate under a strict sustainability ethos, with a commitment to reducing waste and minimizing their carbon footprint. Their sustainable practices extend to the communities where they operate, making Dedon more than just a furniture manufacturer - it's a conscientious global citizen.

Click to Shop all Dedon Here >>